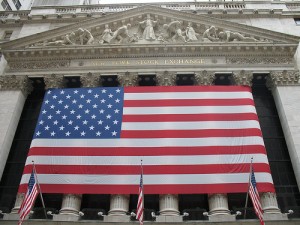 U.S. stocks ended an unstable session with moderately higher gains on Thursday. Upbeat earnings on technology, as well as consumer discretionary stocks outperformed the data, which showed that economy grew at a sluggish rate and unemployment rate abruptly increased.
The NASDAQ stock market posted the largest gains after NetApp Inc's strong profits increased the stock 8.6 percent to $56.19. Meanwhile, Microsoft Corp's shares rose 2.4 percent to $24.77 following a statement from a top investor that its chief executive should step down.
The Dow Jones industrial average rose 0.13 percent or 15.51 points to 12, 410.17. The S&P's 500 Index climbed 0.31 percent or 4.13 points to 1,324.60. The Nasdaq Composite Index earned 0.70 percent or 19.5 points to 2,780.64.
However, consumer discretionary division performed best, aided by Tiffany & Co, which was up 8.6 percent at $76.03. The luxury seller increased its outlook after releasing its first-quarter earnings.
Coach Inc., the leather goods company famous for its luxury handbags, released 5 percent increase while clothing-line company Guess reported a 15 percent decrease in quarterly profits. But, stocks rose to 11.2 percent as earnings per share came better than estimated. The S&P consumer discretionary sector index climbed 0.8 percent.
The Goldman Sachs reduced its S&P 500 target for the end of the year from 1,500 to 1,450. It is currently the lowest target decided by the banking firm after Citigroup and UBS increased their profit estimates for S&P companies the previous week.
However, unemployment rate reportedly rose last week and remained at high levels. The gross domestic product in the United States climbed at a 1.8 percent yearly rate in the first quarter. It did not change from the last estimate and is still below the expectations of the analysts for stronger growth.