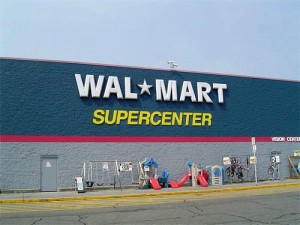 Wal-Mart fights back competitors by emphasizing low prices and adding back thousands of products in store. The company is also planning to expand into cities and neighborhoods where other people dare not to go.
Three years ago, Wal-Mart led several dollar stores for selection, convenience and price. However, it is now losing customers and revenue, including smarting because of some poor decisions.
Although Wal-Mart is not in danger of giving up its place as top of the retail food chain, several competitors have already begun chipping away some parts of its dominance.
According to the International Council of Shopping Centers, revenue at Wal-Mart stores, which are open at least a year, has decreased by an average 0.75 percent each quarter over the last year. But, revenue increased by an average of almost 1.7 percent at Target, 5.9 percent at Family Dollar and 8 percent at Costco.
Wal-Mart CEO Mike Duke said in an interview with The Associated Press that they are running a better business now since competitors brought them to raise their own game. Wal-Mart anticipates that the decline in revenue will stop when it releases results from its fourth quarter this month.
Not like other stores, Wal-Mart thrived in late 2007 when the US when into a reccession. Its primary customers from households bought even more. It became the only place where many people shopped.
The entire $27 billion revenue growth of Wal-Mart for the year ending in January 2009 came from larger demand for basic items such as foods, household goods and pharmacy. That year, shoppers spent almost a quarter more on basics.
The company is also completing a major renovation to address shoppers' complaints that its stores were messy. It widened aisles, removed clutters, enhanced lighting and lowered shelves.