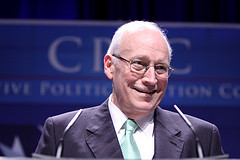 Dick Cheney, former Vice President of the United States, told "Fox News Sunday" that he has not decided whether or not he will undergo heart transplant.
Cheney added that his physicians told him that they see mark improvement on his health since he was diagnosed with an end-stage heart failure last year. Just last summer, he underwent an operation wherein his body was fitted with a battery-operated medical device which helps his heart pump blood throughout his body.
During his appearance in Fox, the former vice president looked healthier than he appeared just a few months after his summer operation. He also added that he has started working on a book and is planning a fishing trip towards the end of May.
When he was asked whether or not it is safe for him to go fishing with the electrical device attached to his body, 70-year old Cheney jokingly said that he is not supposed to fall in the water.
On a similar note, when the current U.S. President Barack Obama announced that he has decided not to show pictures of Osama's death, Dick Cheney agreed. Cheney who is not a very huge fan of the current administration was all praises about the attack that led to Osama's death.
Cheney further said that we have to give Obama "high marks" for sending SEAL team 6 to raid bin Laden and finally brought the international most wanted terrorist down.