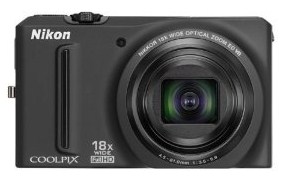 Nikon is legendary in the photography space.  But that has nothing to do with PCAdvisor from giving it the best compact camera award for 2012.  Nikon just plain builds great high quality cameras.
This compact camera includes a pop up flash which helps with glare and is standard on any high end SLR.  Very sharp photos even at the end of its telephoto range and great range of focus give this camera an edge.  This is a 25mm to 450mm or 18x optical zoom compact.  Features include anti-shake technology, rubberized surfaces, 12.1 megapixels and the ability to take Full HD clips with stereo sound.
Runners up in this category included cameras like the Canon Ixux HS 230, the Fujifilm FinePix HS20, the Panisonic DMC-TZ20 and the Sony DSC-HX9V.
This Nikon model was released in 2011 and continues to be an Amazon Best seller currently in the number 8 spot for Compact Digital Carmeras.