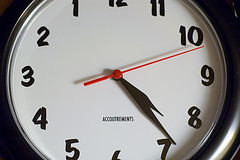 It's that time of year again.  Kind of a love hate relationship.  We loose an hour tonight, but that sacrifice will bring seemingly longer days as the sun stays bright later into the day.  Officially Sunday Morning at 2AM the time will shift forward to 3AM leaving us all a little more tired come wake up time.
If you think the change is a little early, then you might still be getting used to the changes enacted by congress a few years ago.  "Spring Forward" used to occur the first Sunday of April.  The changes create more Daylight savings in for the year and are supposed to save energy.
The Uniform time Act created in 1966 was the first widespread use of daylight savings.  Previously the idea credited to  Bejamin Franklin was used during World War I for its energy savings.  The law was reformed in 1986 and then again in 2006 when it was lengthened for the sake of more energy savings.
Daylight savings changes are an excellent time to remember to change your batteries in all of you fire alarms and check that they are in working order and not expired.  If you get in the habit of doing that twice a year corresponding the change, you can be sure that it gets done.  Experts recommend changing the batteries twice a year to prevent fire alarm failures.
Daylight saving time goes through the first sunday in November.