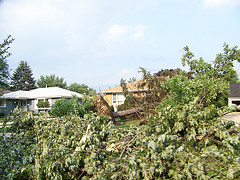 On Sunday, officials said that the three days worth of vicious storms and tornadoes in the southern part of the country left 43 people dead and ruined hundreds of infrastructures.
North Carolina suffered most with 22 people dead. More than 80 people were also injured in the series of tornadoes that hit the area Saturday night. Vehicles as huge as trucks were tossed around like toy cars, homes were flattened to pieces, and even airplanes were blown away off the tarmac. Power lines were also cut by uprooted trees and debris of ruined buildings. At present, more than 200,000 individuals in North Carolina are suffering from lack of electricity.
Governor Beverly Perdue told reporters that this is the worst tornado damage that he has seen in North Carolina. He further said that there are 23 counties that are hurt really badly by the disaster – schools ruined, properties damaged, and infrastructures brought to the ground, among many others. U.S President Barack Obama already pledged that the government will do everything to rebuild the state.
Two nuclear reactors in Surry Power Station shut down automatically Saturday night, said Dominion Virginia Power. However, they said that both reactors are in stable condition and that their backup generators are working properly.
The storms started last Thursday in Oklahoma and moved to many other states in the South. Over the weekend, as much as 241 tornadoes were accounted but only 50 were confirmed. Alabama, Arkansas, Oklahoma, and Mississippi also suffered from the incident.