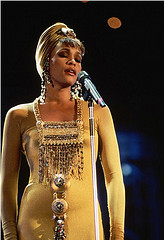 A representative of the singing superstar Whitney Houston confirmed on Monday that she is back in drug rehab. Kristen Foster, Houston's spokesperson, said that the star is undergoing treatment for drug and alcohol addiction as an out-patient in a rehab. Foster added that Houston did it voluntarily as a part of her long-standing road to recovery.
Whitney Houston, 47, is probably one of the most singers in the history of pop music. In fact, up to present, the Guinness World Records confirm that Houston is the most awarded female artist with a total of 415 awards as of 2010. Her awards include six Grammy Awards, 22 American Music Awards, and 2 Emmy Awards. Moreover, Houston has sold over 170 million copies of her album worldwide.
Houston also had a taste of the big screen when she starred as the lead role of the movie The Bodyguard in 1992. She sang the lead single of the movie's soundtrack "I Will Always Love You." The song became the best-selling single performed by a female singer in the history of the music industry.
However, the superstar has been battling with drug addiction for years which led to the steady decline of her career. In 2009 she released her comeback album and announced that she is clean (of drugs) and healthy.
But in 2010, during her overseas tour, the superstar was once again troubled by cancelled shows and negative reviews. Some of her fans said that the quality of her voice is not the same and that they are very disappointed with her concert.
Foster refused to say how long Houston will be under treatment or where her rehab is. Houston, however, is very visible and just last week, she sang on stage during Prince's Los Angeles concert.