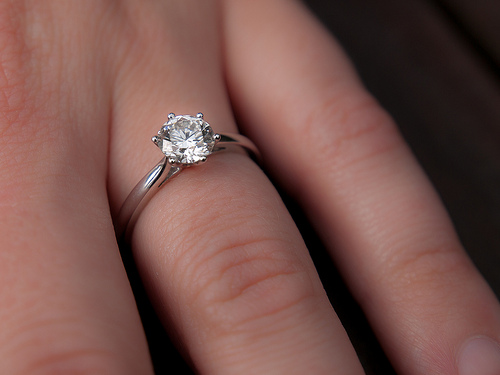 Carrie Ann Inaba received a surprise marriage proposal Thursday morning from her two-year boyfriend Jesse Sloan on the show "Live with Regis and Kelly."
The "Dancing with the Stars" judge was filling in for Kelly Ripa when her boyfriend proposed before the show ended. Host Regis Philbin acted as an accomplice, reading a letter from a man who was asking the hosts for ideas on how to propose to his girlfriend.
The lights dimmed and Sloan, 39, appeared while the musicians started playing the violins. He talked about Inaba's finer qualities as he got down on his knee and asked her the question, "Will you marry me?"
Although surprised, Inaba, 43, answered with a "Yes, I will marry you!" The singer and host appeared to have liked the execution.
Regis admired his co-host's engagement ring, a 2 ½ carat D colour Princess Cut Diamond Solitaire in Platinum from Rafinity. The ring also features the bride and groom's birthstones, the show informed its audiences.
Regis along with guests Howie Mandel and Jake Gyllenhaal toasted the engaged couples with Champagne.
Inaba started her career as a singer in Japan. However, she became popular for her dancing. She was first introduced to American audiences on the show In Living Color. She is one of the judges in the 'Dancing with the Stars' television series aired in ABC.
In a statement released from the April issue of Prevention magazine, Inaba said she wanted to marry on a beach with her accountant boyfriend this summer.