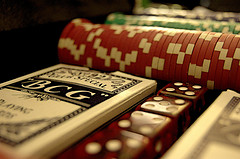 The parent company of Absolute Poker and Ultimate Bet – websites offering online poker games – said on Monday that they have laid off a total of 11 sponsored poker professionals as two of the company's executives face charges of processing illegal payments.
Blanca Games, an Antigua-based company, said that it has cut off ties with sponsored professional poker players such as Prahlad Friedman, Joe Sebok, Scott Ian, and Trishelle Cannatella. The Company further said that it was an extremely difficult decision for the company and that they are saddened that they are under circumstances that have pushed them to make such actions.
Blanca's management said that the indictments that were announced in April mean that the company is no longer capable of paying professional players to play poker. 11 of the company's executives are the target of the legal actions filed in the federal court in New York. Alleged associates PokerStars and Full Tilt Poker are also included in the indictments.
Reports say that that Brent Beckley and Scott Tom of Absolute are stepbrothers and are the principal decision-makers of Absolute. The stepbrothers are also included in the indictment.
Sebok, one of the laid off sponsored players of Blanca Games, said that he had been talking with upper management since the indictment was released in April. He also said that it was quite obvious that no matter how things will turn out, his presence in the company will not be necessary or less necessary. He said he knew he will be let go.
PokerStars and FullTint announced that they have already formed an agreement with the Department of Justice agreeing to return money to a couple of their players. PokerStars said that the process has begun. Absolute, however, said that they will still review legal actions before they will begin paying back their players.