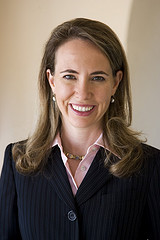 On Monday, doctors of Arizona Representative Gabrielle Giffords confirmed that she may fly to Florida this week to send off  her husband to space. Gifford's husband is the space commander of space shuttle Endeavour. However, the congresswoman has to immediately return to the hospital to continue her rehabilitation.
TIRR Memorial Hermann doctors said that Giffords is medically stable and able to travel. In fact, they view this trip to see her husband as part of her rehabilitation. The congresswoman was shot to the head a few months back and is still under the hospital's rehabilitative program. Dr. Dong Kim, director of the Mischer Neuroscience Institute in the hospital, said that he does not see any reason why this trip should pose additional risk to Gifford's health.
The last time the congresswoman was in an aircraft was when she was flown from Arizona, where she was given immediate treatment following the shoot-out, to Houston, where her current rehabilitation is taking place. Dr. Kim, however, emphasized that Giffords will no longer be flying thru ambulance transport.
C.J. Karamrgin, the congresswoman's spokesperson, said that they are very pleased with the announcement. Her entire staffs believe that this will be another major milestone in her rehabilitation as she has been looking forward to the launch even before the accident.
President Barack Obama and the first lady will also watch the launch but there are no reports yet if they will be watching it with Giffords. The families, including the congresswoman, will watch the Endeavour take off from a restricted area and Giffords has no plans of a public appearance.