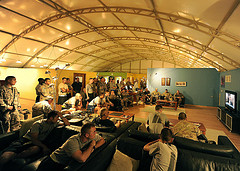 Ayman al-Zawahri, second in command to Osama bin Laden, is officially the leader of al-Qaida, the group announced Thursday.
Al-Zawhari is said to be the brains behind al-Qaida as he is extremely skilled in logistics and planning. After the declaration of al-Zawahri's leadership, many analysts are saying that he would probably give a spectacular attack to establish his credentials as the world-renowned terror group's leader. They added that he might also want to establish the name of al-Qaida in Yemen under his leadership.
Al-Zawahri is known for his deep hatred towards the United States and Israel and that hatred would most likely define his reign and al-Qaida's future actions. A 2001 treatise showcased his fascination for violence as he said that the group's goal is to inflict as much casualties on the Americans as possible. He added that killing the Jews and Americans is not precisely an impossible task. In fact, he said, that they can easily be killed with either a bullet, a stab of a knife, or even a bomb.
This hatred towards the Americans is rooted on something really deep – his family. It is said that al-Zawahri's wife and two of their children were killed in an airstrike launched by the United States. The airstrike happened after the al-Qaida 9/11 attacks.
Everyone already expected to al-Zawhari to inherit the leadership of Osama bin Laden after he was killed on May 2. The delay in the announcement, however, led counterterrorist groups to think that there was a power struggle within al-Qaida.
Pakistan's Taliban group welcomed al-Zawhari's leadership and committed in to working alongside the al-Qaida group in their fight against the United States.