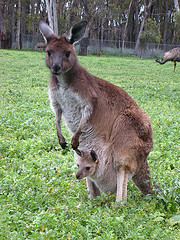 Bobby Davro, a known comedian, angered parents after he stimulated sex acts while in a giant kangaroo costume during a children's show. Parents were in shock and were clearly upset after Davro made vulgar movements in front of kids as young as five.
Davro, 52, is also alleged of making jokes that can be interpreted as racist during his performance as the scarecrow in the Wizard of Oz held in the Preston's Charter Theatre. It is said that the actor repeatedly referred to Chinese people as individuals who eat dogs.
The production company and the bosses of the theater are now forced to make a public apology after all the complaints from the angry parents.
A 67-year old grandmother, Annabelle Fleming, said that she was furious and thought that Davro treated them as a pub audience. She brought her five-year old granddaughter to the show. Another parent in the audience also said that the actor even pulled up his leg and insisted that a lady from the audience kiss his leg.
Moreover, Mrs. Fleming, one of the mothers in the audience, said that she is not supposed to pay £52 just to see an actor make out with a kangaroo; especially not on a show intended for children.
In one of their statements, the Guild Hall and Chartered Theater apologized to everyone who was offended by their show. They also said that all the complaints will be dealt with in due course.
Davro's spokesman said that the New World Productions' goal is to produce family entertainment that will appeal to all ages. They are, however, sorry that their drive for excellence offended some people.