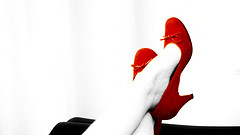 It's not just any red shoes, Yves Saint Laurent's red shoes with red soles is the subject of Christian Louboutin's lawsuit against YSL.
Christian Louboutin designed a pair of red-soled womens shoes that have been popularized by the characters on the "Sex and the City". Yves Saint Laurent's 2011 spring collection also have a pair of red suede shoes with red soles which have evoked Louboutin to file a case against YSL.
The design is actually of a red suede fringed footwear which is also sold in navy, purple and green colors. But it's the red footwear which have provoked Louboutin to file a case against YSL.
Louboutin introduced the red shoes in 1998. The designer got the notion for the shoe design when he used a red nail polish over the black soles of red women shoes. In 2008, the U.S Patent and Trademark awarded the rights to Louboutin for the trademark for the red shoes.
According to the side of Louboutin, YSL violated the trademark of their footwear. They have created a red-sole suede shoe that is almost identical to Louboutin's design in order to confuse the buyers.
However, as YSL defended, they gave a letter to Christian Louboutin informing the company that they will continue to sell the infringing footwear. But for Louboutin, it asks for a court injunction regarding the selling of the red shoes of at least $1 million.