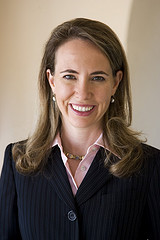 Congresswoman Gabrielle Giffords was cleared by her doctors to go home from the Houston hospital on Wednesday. Giffords has been staying in the said hospital since January, recovering from the gunshot wound she acquired during a meeting with her constituents in Arizona.
Hospital officials said in a statement that Congresswoman Giffords will begin her outpatient treatment really soon at the TIRR Memorial Hermann hospital. The hospital officials added that Gifford's physical strength and cognitive abilities have markedly improved since she was first hospitalized.
Dr. Gerard Francisco, chief medical officer of TIRR Memorial Hermann hospital, said that Giffords has shown steady and continuous improvement since she was admitted in their institution. Dr. Francisco also said that they are all thrilled that Congresswoman Giffords is in the second phase of her rehabilitative treatment as an outpatient. He said that there is not a single doubt in his mind that Giffords will successfully recover.
Congresswoman Giffords was shot in her head by a gunman who opened fire towards her and a crowd participating in the town meeting on January 8 in Tuczon, Arizona. In the same incident, six were reportedly killed – inclusing a young girl and a federal judge – and a dozen other people were wounded.
Jared Loughner, the 22-year old gunman, was just recently declared as mentally incapacitated to stand trial. He was then sent back to Missouri and was admitted to a hospital specifically catering to federal prisoners.
C.J. Karamargin, Congresswoman Giffords' spokesperson, said that Gifford's abilities are constantly improving and they are already discussing ways for Giffords to resume active duties in her congressional office.