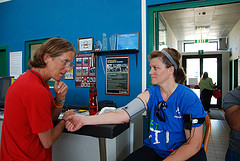 Contrary to what a recent analysis has suggested, a class of medications well-known for the cure of high blood pressure does not increase the risk of cancer, United States health authorities said Thursday.
The class of drugs the announcement was referring to are the ARBs or the angiotensing-receptor blockers. Among the medicines in this classification are Iosartan (Cozaar, telmisartan (Micardis), candesartan (Atacand), and the very popular valsartan (Diovan).
The announcement came from the United States Food and Drug Administration declaring the drugs safe to use and will not, in any way, increase anyone's risk of having cancer. Dr. Joseph Diamond of the Long Island Jewish Medical Center, said that the data released by the FDA ease their minds because the data support what they already felt was true.
FDA started reviewing data following the appearance of a meta-analysis in the July 2010 issue of "The Lancet." The meta-analysis suggested that patients who take ARBs have 10% more likelihood to acquire cancer.
Until the report was published July last year, there had been very minimal concern regarding the safety of the drugs. Diamond said that they have full confidence on the drugs as they have been around for many years. He added that a lot of doctors were sceptical when they first heard about the study.
Dr. Cheryl Laffer of the Texas A&M Health Science Center College of Medicine, said that she and her colleagues were not a bit least concerned when the study was published; she, however, said that their patients were.
Diamond explained that ARBs are one of the most widely used drugs for high blood pressure patients. They may be used for patients with general hypertension, or those with other diseases like diabetes and kidney problems.