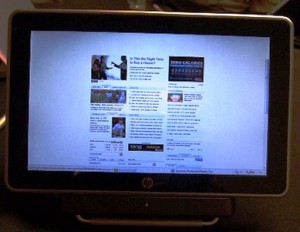 The Hewlett-Packard Co revealed its first and newest product for the rapid-growing tablet market. The HP slate tablet is a device that runs on Windows 7 software intended for business-minded customers.
The HP Slate 500 tries to reproduce the PC feel and experience in a tablet form, thus creating a distinction between rivals who have released devices with a smartphone feel. The device is running on Microsoft Windows 7, which is the same version used by most companies for their standard personal computers.
The slate is sold at a starting price of $799, which is higher than other competing devices such as Apple's iPad that started the tablet craze when it was released earlier this year.
HP offers a slate tablet with 8.9-inch, multi-touch enabled screen. It weights 1.5 pounds, a digital stylus pen and 64 gigabytes storage. Its battery can last up to five hours.
The slate is installed with Wi-Fi access; however, it has no built-in 3G internet access unlike other similar devices such as iPad, Galaxy Tab and Samsung Electronics.
The director of business notebook marketing at HP, Carol Hess-Nickels, gave importance to the tablet's usefulness when it comes to business activities and applications. The device can benefit retail, insurance and healthcare companies the most among other entrepreneurs.
The HP Slate comes with Intel Atom processor, unlike other rival tablets that runs on low-power ARM-based chips found in smart handy phones.
The device has a front and back camera that allows video conferencing, as well as a USB port. It also consists of a case and docking station. The Slate is now available for sale online.
Hewlett-Packard Co, the world's largest PC maker, is also planning to release a tablet that may look different from the Slate next year.