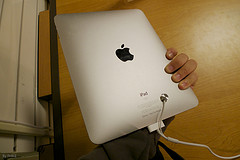 Viacom Incorporated and Time Warner Cable Incorporated allowed the federal court of New York decide on their dispute regarding iPad applications on Thursday. Both companies filed lawsuits against each other because Time Warner placed about a dozen of its cable channels in Apple's iPad.
Four Networks, including Viacom Inc., News Corporation, Discovery Communications, and Fox Cable Networks, have requested Time Warner to pull out their programming from the iPad application they own, that was launched a month ago. The networks said that Time Warner is violating their contracts by putting their programs in their application. They further said that Time Warner should pay extra if they put their shows on air other than the television.
Time Warner insisted that their current contracts provided them with those rights. However, they decided to take off all 12 shows from the iPad application, April. But Viacom still thinks it is necessary to get a court order to make sure Time Warner won't return the shows in its application. Furthermore, Viacom is asking for a $2 million fee for each area of the contract violated by the company.
Time Warner is steadfast in their stand that their customers should view the programs in their cable system in whatever platform, and should not be asked to pay extra for it. Now, the cable company wants the court to confirm what they originally think is correct, said Marc Lawrence Apfelbaum, Time Warner general counsel.