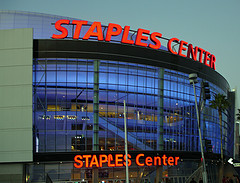 John wall lead the Rookie Challenge with a record 22 assists. The Rookies won over the Sophomores 148 to 140 in the 2011 T-Mobile Rookie Challenge.
After a less than spectacular first half, the energy doubled the second half with what seemed like a duel for the MVP prize by DeJan Blair and DeMarcus Cousins. Cousins had been an MVP favorite and looking at his stats you could not deny that. But in the end Wall's 22 assists pushed him into the MVP slot.
Blair ended the game shooting 14 for 21 with 28 points and 15 rebounds. Cousins had 33 points and an equally impressive 14 rebounds.
Wall and Griffin had the quintessential wow moment of the game. During the second half of the game an alley-oop bounce pass with a reverse two handed slam dunk by Griffin had everyone out of their seats.
John wall scored 12 points only slightly behind Blair and Cousins, but his 22 assists are what everyone is talking about. Chris Paul held the record at 17 assists previously.
There is also some talk of Dougie dunks and whether or not that was the move Wall was trying to do while hanging from the rim. Right now that is still open for interpretation.
Further highlights of the game include Serge Ibaka of the Thunder with two three pointers and a whopping 30 points by James Harden.
The T-Mobile Rookie Challenge took place at the Staples Center in Los Angeles on Friday the day before the regular All Star Game Which is happening Today.