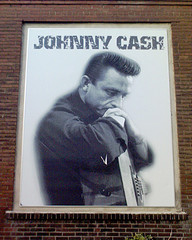 The childhood home of legendary singer Johnny Cash is currently under renovation and will be turned in to a museum. The singer's home is in Dyess, Arkansas.
The family home where Cash grew up as a child was bought by a State University and will be converted in to a museum in honor of the late legend. The money that will be raised durring The Johnny Cash Music Festival will be used solely to rebuild Cash's childhood home.
The festival will be held on August 4 at the State University and will include performances from Cash's family and friends. Rosanne, the singer's eldest daughter, and his brother Tommy are only few of his loved ones whose shows are expected on the festival.
John Carter, the singer's son, said that the dirt from his dad's old home has made Cash's spirits strong. Because of his community's financial conditions as he was growing up, he learned the value of hard work at a very young age. His family and friends from his childhood inspired his music and made them authentic.
The legendary singer passed away back in 2003 due to complications from his long-standing diabetes. However, he was already diagnosed with Shy-Drager syndrome, a neurodegenerative disease, as early as 1997. His illness forced him to cut his tour short. Thereafter, his health dwindled down and he faced numerous hospitalizations until he died in his home in Nashville.
The locals of Dyess, Arkansas are excited about the museum and thinks that they now have their own version of Graceland (Elvis Presley's home) in Tennessee.