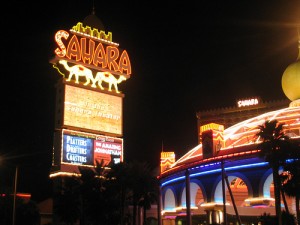 The Sahara Hotel & Casino, located on the busy strip of Las Vegas, is closing after almost six decades of business.
Many other casinos established from the early days of gambling in the city of sin have already been rebuilt into top megaresorts. However, owners of Sahara Hotel & Casino have no plans yet for the aging establishment.
According to CEO Sam Nazarian, owner of SBE Entertainment group, the continued operation of the Sahara property is not feasible anymore in terms of cost-efficiency.
The officials said the establishment will close on May 16.
The Sahara opened in 1952. In the 1960s, it was featured in the movie "Ocean's Eleven" as one of the casinos that was robbed by a group of veterans from World War II.
However, the company might consider Sahara's complete renovation or reposition, Nazarian said.
He also informed that MGM Resorts International is assisting affected workers to get new jobs. Guests who have reserved for rooms after the date of closure will be given accommodations to the establishment as well.
CEO Jim Murren of MGM Resorts said that closure of establishments or properties is already part of the life cycle in the Sin City. Yet, the property still holds a brighter future, Murren said.
MGM Resorts and SBE Entertainment group have an established relationship in marketing.
Las Vegas' Treasure Island owner Phil Ruffin said improvement of the Sahara property would do well for the Las Vegas strip. But, he thinks SBE might find a difficult time to get financing since Sahara's neighborhood appears pretty bad.
But, Nazaria believes Sahara and the northern part of the Strip is the future of Las Vegas. He is confident that they will find a comprehensive and creative solution for the historic establishment.