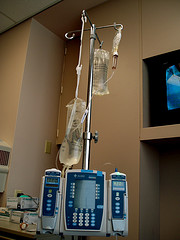 A mother from Massachusetts who withheld chemotherapeutic drugs was convicted Tuesday. Those were supposed to be given at home from her autistic son who also has non-Hodgkins lymphoma. She was convicted of attempted murder after jurors dismissed Kristen LaBrie's claim that she thought side effects of those drugs could kill her son.
LaBrie was decided guilty of child endangerment, as well as battery and assault for not giving her son, Jeremy Fraser, 5 months worth of cancer medications. The boy was diagnosed with cancer in 2006 and died three years later at the age of 9.
LaBrie said that she deliberately stopped her son's cancer treatment because she was seeing his son get really sick from the medicine's side effects. Prosecutors see this as her way of running away from her responsibilities as a single mother to Jeremy.
One of the jurors Paul Holladay said that it was easy for them to reach a decision on the minor charges but had a really difficult time discussing LaBrie's attempted murder case. He further said that when the trial started, they did not think they'd find her guilty and neither did they want it to end up that way.
However, Holladay also said that as more pieces of evidence were reviewed, the more they were pushed to the conclusion that the single mother is guilty. LaBrie was aware of the implications and importance of the treatment for her son but continued to deprive him of it.
LaBrie became teary-eyed while the verdict was read but consoled her sister who was then sobbing in the front row. When she was led away, she mouthed "I love you" to her family.