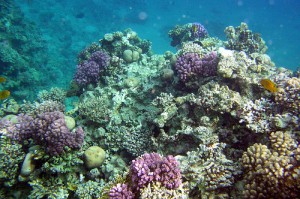 In south-western Puerto Rico, the ocean floor reveals presence of coral reefs strewn with bright-blue sea squirts and a huge number of other organisms. Their existence gives hope to scientists who have been striving hard to save the island's endangered ecosystem.
The reefs were newly discovered at a depth reaching up to 500 feet or 152 meters covering an area of 12 miles or 19 kilometers. According to the U.S National Oceanic and Atmospheric Administration, the discovery was part of a mission funded by the central government to conduct research on deep-water corals.
Divers who have enrolled in a one-year training course to reach the deep waters up to 100 feet have noticed the growing reefs and large predators prowling nearby, Richard Appedloorn said, a professor at the University of Puerto Rico in Mayaguez who was also involved in the mission.
Appledoorn said they have stumbled upon a deep underwater landscape that is inhabited by lettuce coral, the lace-like star coral and several species of sponges, including groupers, snappers and reef sharks.
The existence of the reefs suggests that threatened shallow ecosystems in the U.S. Carribean territory may have better than expected chance to survive because flourishing underwater fish species can help restore organisms in more shallow reefs, Appeldoorn said, along with Ernesto Diaz, the director of Puerto Rico's Coastal Management Program.
Officials in Puerto Rico and the U.S Virgin Islands now plan to create the Caribbean Regional Ocean Partnership, an undertaking that seeks to better coordinate the use of coastal water and the execution of conservational programs. Both islands have already submitted a proposal for the partnership to NOAA that is just waiting to be approved.