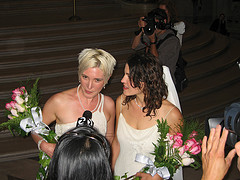 A lot of cheering gay couples rushed last Saturday to make wedding arrangements that they have been dreaming off for decades after the legislation of same-sex marriage in New York took place. The legislation may actually turn a traditional gay pride parade into a huge engagement party/
Just a few minutes after Democratic Governor of New York Andrew Cuomo signed the law legalizing gay marriage in the city, sparkling diamond rings were offered and accepted with the promise of a grand wedding. The Independent Democratic Conference reported an estimated $284 million additional income for the state with these gay weddings alone. The report also said that than an average of 21,000 lesbian and gay couples from New York may get married within the next three years and around 42,000 would travel to New York for a "destination wedding."
Dan Gallagher, 46, did not wait for the ink to dry before dropping down in one knee in the middle of Central Park, asking the million-dollar question – "Will you marry me"? Gallagher and his partner Peter Shearer have been together for 14 years and are raising a 4-year old son.
Tim Ford, a 45-year old actor said that it makes him feel like they are equal with the rest of New Yorkers. He is engaged to marry 44-year old Michael Beltran, his partner for 18 years. Beltran said, while choking back tears that they had been waiting for this moment for a very long time. He added that it was a very emotional moment for both of them.
New York is the most populous among six states that legalizes same sex marriage. Civil unions are also legal in Hawaii, Delaware, New Jersey, and Illinois. Same sex marriage, however, is banned in 39 states.