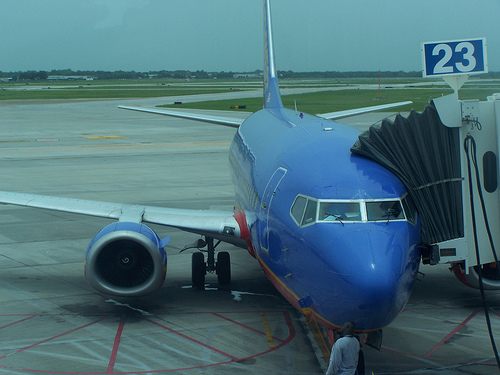 Seventy flights from Southwest Airlines Co. were canceled on Monday as the inspection of Boeing 737 planes continued. The action was implemented after a Southwest plane with a hole in its fuselage had an emergency landing on Friday.
Southwest's Flight 812 was supposed to head to Sacramento from Phoenix when a 5-foot long tear opened its fuselage about 20 minutes after it had taken off the airport. Southwest only runs Boeing 737 planes.
Whitney Eichinger, spokeswoman of Southwest Airlines, said seventy flights out of around 3,400 daily flights were canceled on Monday. She said out of seventy-nine older models of Boeing 737-300 that were inspected after the incident last Friday, thirty-three of them had been conferred back to service.
Over the weekend, Southwest Airlines canceled about 600 flights as it inspected 737-300 planes for cracks in fuselage and fatigue. The discount airline said there were cracks found in two other planes.
The Boeing Company has no immediate reply on Monday. According to aviation officials, the aircraft manufacturer is expected to render service bulletin to 737-300 operators all over the world to inspect the planes affected, particularly those of heavy use. Currently, there are about 280 Boeing 737-300s in the United States and a total of 900 around the world.
Analyst James Higgins of Soleil Securities said the cancellations of the Southwest flights might cause the company some revenue loss, However, he doesn't think the effects of the incident will last.
On Monday morning trading, Southwest's shares dropped 2.6 percent at $12.34. Meanwhile, shares of Boeing dropped 0.2 percent at $73.84.