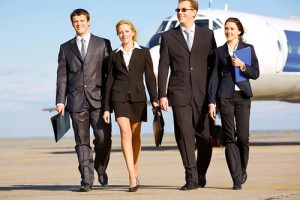 American companies are expecting a 5-percent increase in their total travel expenditures this year. The rise is twice the growth rate last year just after a two-year decline in business. This shows a positive sign in the economy, thus perking up airlines, hotels, as well as car-rental companies.
Companies spent around $228 billion in business travel last year. The slight boost helped American airlines place their first collective earnings in three years. Reports showed increasing profits at various hotels like Marriot and Hyatt, including car-rental establishments.
Industry officials say the come back of corporate retreats is the most important sign of recovery. At the bottom of the recession, corporate retreats had disappeared as part of business companies' effort to cut down overspending while the economy was weakening.
Travel is an important part of company's success, according to corporate managers and executives. They send workers such as salesman, as well as top executives on the road to let their clients know they are valuable. Today, many companies travel budget are almost back to pre-recession state.
The economic output of United States returned to the pre-recession state in the last quarter of 2010. It is also predicted to grow more in 2011.
However, business travel outflow isn't likely to come back to its pre-recession state until mid 2013 since companies are asking their workers to travel thriftily, said Michael W. McCormick, the Global Business Travel Association executive director.
Business travel managers tell their employees to stay fewer nights and at less extravagant hotels, hire smaller cars and get cheaper air flights.
The success of the travel industry has always been closely related to the country's economy, as well as corporate spending. Generally, convenience is the greater concern of most business travelers than price. Since business traveling is back, the travel industry is also getting significant benefits.