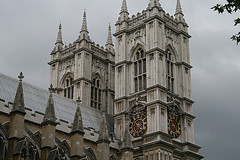 In April, when Prince William and Kate Middleton perform their wedding rites in the Westminster Abbey, they will also participate in a tradition of blue-bloods that has been observed for decades. All of Britain's royalties have been crowned on these hollowed grounds since 1066 and most of them were wed there too.
The Gothic Church, one of United Kingdom's finest, is also home to the remains of some of the world's most important people – Isaac Newton, Charles Darwin, and Charles Dickens. The structure of the church itself, rumored to be priced at £50,000, is already awe-inspiring with light going through the stained-glass windows and echoing corridors.
The Abbey is where you will find the historical Coronation Chair where all monarchs were crowned starting in the 14th century. The chair is said to be 700 years old. Dr. Tony Trowles even said that the church is home to the widest and most beautiful collection of British sculptures.
The future king's bride-to-be will walk down the aisle beneath the Gothic arches. She will walk pass tombs of past royalties and priceless medieval paintings. Serenading her will be a remarkable organ and choir.
Prince William's secretary Jamie Lowther-Pinkerton mentioned in his Clarence House statement that the couple chose the venue because of its timeless beauty and royal history. He also said that even though the church is huge, being in the high chair still exudes a wonderful feeling of intimacy.
Thousands of people visit the Westminster Abbey every day, and probably even more will visit it on the April 29th royal wedding. For Kate Middleton, however, the Abbey will be more than just a place where her wedding will take place; as this is also where her husband-to-be could be crowned the next King.