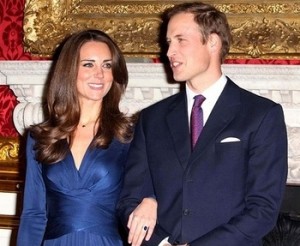 A dress that Kate Middleton had worn on a charity fashion event in 2002 has been sold for an astonishing amount of $105,000 (£78,000) at an auction held on Thursday
Speculations say the dress had sparked the interest of Prince William for the British brunette when he attended the fashion event at the University of Saint Andrews in Scotland.
The black-see through dress designed by Charlotte Todd was a hot item at the auction room in central London. It was being sold for a total of $126,000 or 78,000 pounds, which includes the commission.
The massive amount has exceeded the estimated selling price of 8,000-10,000 pounds by the Kerry Taylor Auctions.
The mesh slip-dress was bought by a man at the back room. He declined to tell his name, but said he bought the dress on behalf of a person he named "Nick from Jersey."
Middleton was only 20-years-old when she strut the knitted dress on the catwalk during a fashion show at the university where she and William were students. Prince William was then siting in the front row during the event. Reports say a friendship blossomed between the two after the show.
The dress, which originally costs £30 to put together, was intended to be worn as a skirt. But, Kate had worn it as a strapless dress over black underwear.
Charlotte Todd, a textile and fashion design student at the University of the West of England in 2000, produced the dress for a project called "The Art of Seduction."
After two years, Todd was invited to present a garment for the yearly fashion show in Saint Andrew, and Middleton was selected to wear the dress.
Todd, now 31-years old, was totally speechless after the sale.