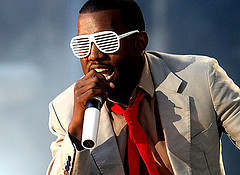 As it turns out, there ARE parties that Kanye West isn't invited to. The Chicago rapper, who flew many miles to Paris for Fashion Week, was allegedly turned away from several fashion events. During the entire length of fashion week, Kanye was seen attending several fashion shows such as Givenchy, Westwood and Valentino, however, his absence was also noted at the rest of the fashion shows. And the reason behind that is his lack of an invitation to the events.
He was suppose to check out the latest fashion from Louis Vuitton but he was denied entry because of his lack of an invitation.The New York Post cited that organizers are tired of uninvited celebrities crashing in and anticipating royal treatment. KCD, the show organizers who handled Alexander McQueen; Balmain and Louis Vuitton shows were strict in their entrance hence it was rumored that West was having trouble getting in.
"Kanye has been a welcome guest at several events that KCD has managed over the years. Several designers chose to have smaller shows this season and therefore chose to not invite celebs in order to accommodate press and buyers." A KCD representative told the Post.
A representative from Balmain said that Kanye requested access to the show however; they let him know that they wouldn't be able to accommodate him. Instead of retreating, he chose to come to the door. Kanye also strutted his way in to Alexander McQueen's show. "He did not make a request to attend, but he came uninvited", said the McQueen representative. While the only words that Vuitton representative would say was "Kanye remains a great friend of the house", though he wasn't seen at the event nor he was invited either.