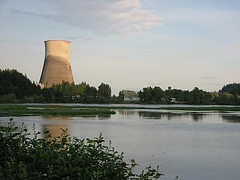 An angry group of people who are determined to oppose the Indian government's plan to construct a nuclear power plant in the western part of India set a couple buses on fire and ransacked a hospital.
The people of Jaitapur have been fighting against the proposal since the government announced their plans of building the power plant nearly four years ago. Their group did not attract many supporters until the recent nuclear plant disaster in Japan following a massive earthquake and a deadly tsunami.
The general strike on Tuesday was called because police officers threatened to disperse protestors after attacking a police station, leaving one person dead. The streets were mostly deserted Tuesday; but at around noon, groups of people gathered in the streets shouting slogans and chants against the Indian government.
The police report said that the mob ransacked a government hospital and burned down three buses used for public transportation. There were no reports of death or injury due to the incident.
Construction of the first unit of the nuclear plant is supposed to start later this year with a proposed budget of $10 billion. If all goes as planned, this plant will become the biggest in the world. Areva, a French nuclear energy that started this project, is expected to generate 9,900 megawatts of electrical power. The first out of six units is projected to begin producing power by 2018.
Jairam Ramesh, Environment Minister, said that what happened in Japan is devastating but it should serve as a wake-up call for everyone to increase security and strengthen contingency plans. However, he insisted that it should not stop India from pursuing cleaner energy source.