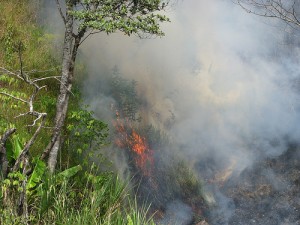 An enormous fire caught a forest in northern Israel on Thursday killing as many as 40 people, many of whom were prison guards trapped in a bus while trying to escape the flames, according to the security services.
The fire was raging out of control on the hills nearing the city of Haifa after more than seven hours it first started. Israel called for help from  Greece, Italy, Russia and Cyprus to send aircrafts to battle the blaze.
Local fire services from across the country responded by sending emergency crews while fire trucks desperately tried to reach the fire scene as they pass through heavy traffic as the night fell.
Israeli Prime Minister Benjamin Netanyahu said the forest fire was a disaster they had never seen before. They tried to deliver all forces of the state to handle this disaster and help rescue those who were injured and to put the fire to end.
Thousands of people were evacuated from their local towns and villages as the impenetrable flames rushed through the pine woodland.
A communal farm was burned to the ground and pictures of the bus and cars carrying prison guards, as well as rescuers were shown on television as they were engulfed by flames.
Police Minister Yitzhak Aharonovitch described the incident as an enormous disaster that took about 40 people and many are still missing.
It was the biggest forest fire to take place in the country's history, according to Israel media, with about 7,000 acres of land destroyed.