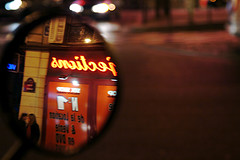 On Wednesday, a study was released by the Berlin Studies Center tells us that a third of the university students in the capital of Germany would consider prostitution to finance their education.
That rate is higher than the other two cities that the study looked at – Paris and Kiev. In Paris, only 29.2% of university students would ever consider prostitution as a way to pay for their tuition, while in Kiev, only 18.5% says yes to prostitution. It has to be noted that prostitution is legal and socially accepted in Berlin.
Moreover, the study discovered that about 4% of the 3,200 Berlin students the researchers interviewed said that they have already tried to get in to the sex industry; doing works such as erotic dancing, sexy Internet shows, and prostitution.
The study authors were genuinely surprised by the results. They said that they conducted the study because they often see reports of student prostitution but did not know if it's linked with the education policies.
26-year old Eva Blumenschein, one of the authors of the study, said that the major reason why students agree to prostitition is financial incentives. Blumenschein is also a student at the Berlin's Humboldt University.
Blumenschein added that the new education policies may have a direct effect on their findings. There is a recent educational reform that aims to increase students' time at the university. This means more student workload and less time to earn money. She also said that we may add the fact that student fees have increased over the past few years. Prostitution pays more for less work.
The study also found that almost a third of the students who are in the sex industry are in college debt.