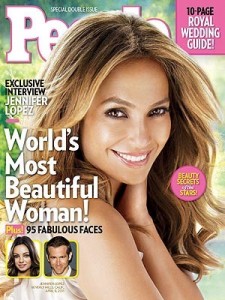 Singer and actress Jennifer Lopez was hailed most beautiful woman in the world by the People's Magazine as inspired by her famous job on the high-rated television show and reality series "American Idol."
The "American Idol" judge topped the yearly list of People's Magazine. She joins former most beautiful people winners Beyonce Knowles, Halle Berry and Jennifer Garner.
Jennifer Lopez was left speechless upon hearing the result. However, she said she really felt proud and happy. In addition, she felt she has now the rights to appreciate the things she has accomplished.
She got married to Marc Anthony, a singer, and took a time off to give birth and take care of her twins in 2008. After that, she made her comeback as one of the judges in the latest season of "American Idol." Since then, she has enjoyed rebirth of her popularity.
Her latest single "On the Floor" tops music charts, giving J.Lo her first Top 10 Billboard hit since 2003. Her record label let her go in 2010 because of disappointing sales. However, she is expected to release her newest album in about four years called "Love?" in May.
J.Lo is widely famous for her curvy figure and flawless skin. Her good looks is even attributed to her good personal life now. She has avoided the thin-look, which became popular a few years ago.
Since she signed up for "American Idol" last year, she has been the celebrity face of several products such as L'Oreal, Gucci children's clothes collection, as well as Venus razors.