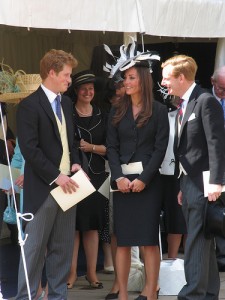 Prince Harry is expected to host a post-royal wedding breakfast at the Buckingham Palace on Saturday. The meal, which will feed the tired and all-night party guests, will be served at 6 in the morning.
Prince William's younger brother and best man, Prince Harry, is also taking the extra role of a party planner as he organizes the wedding's evening reception, a private party for around 300 guests, which consists of the bride and groom's closest friends and family.
According to reports, Prince Harry wanted to make an evening post-royal wedding that his brother and his new sister-in-law, Kate Middleton, will never forget.
The royal brother's grandparents, Queen Elizabeth and Prince Philip, will leave the Buckingham Palace for the younger generation's wedding reception party. They will stay at the Windsor Castle.
It appears that Prince William and Kate Middleton will have two Royal Breakfasts after the wedding.
The Queen will also host a Royal Breakfast for the newly-weds in their honor. This will be served right after the wedding ceremony on Friday at Westminster Abbey while Prince Harry's royal wedding breakfast will be served in the morning, and it will signal the end of the celebration.
Prince Harry has asked a DJ to play in the early hours of the party. Thus, guests who will stay up all night will be served with a royal wedding breakfast. According to ABC News, Prince Harry ordered the caterers to serve bacon sandwiches, as well as "fry-ups" for the guests.