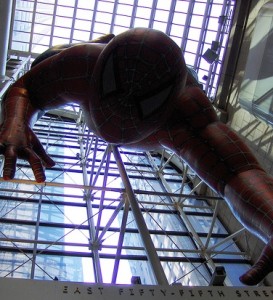 An aerialist fell while giving their preview performance of the Broadway Show "Spider-Man: Turn off the Dark" last night. The stuntman was admitted to the Bellevue Hospital Center, and according to the hospital spokeswoman the patient is in serious condition.
The "Spider-Man" spokesman Rick Miramotez said in an e-mail that the accident happened approximately seven minutes before the end of the show. Christopher W. Tiemey fell from a platform, and from there the show was stopped.
Videos taken by the audiences show the actor leaping from a platform with an attached cable. The cable appears to be breaking as the actor tries to save the heroine. He was then seen falling into a dark area in front of the stage.
The injured stuntman, only 31 years old, fell around 20 to 30 feet in height according to the New York City Fire Department spokesperson.
Minerva Joubert, the hospital spokeswoman, explained in a phone interview that someone in serious condition is actually an ill patient whose vital signs may not be stable and not within the normal limits. However, she declined to give more details regarding Tiemey's condition.
The State Department of Labor, as well as the actors union are inspecting the sets and machinery found at the Foxwoods Theater. They are already discussing backup safety measures according to Maria Somma, the spokeswoman for the Actor's Equity Association.
The show's official opening has already been postponed for the second time. Presently, it is scheduled to open on February 7.