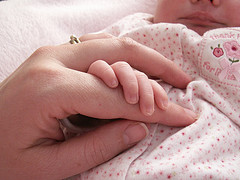 A man, who said his ex-girlfriend underwent abortion, had expressed his anger through a highway billboard in New Mexico. The billboard, which shows a picture of Greg Fultz with a sketch of a baby in his arms, accuses the woman of killing their child.
Greg Fultz, 35-years-old, had bought a billboard in south-central New Mexico when he found out that his ex-girlfriend was no longer pregnant.
Fultz's former girlfriend says the billboard is a form of harassment, as well as an invasion of privacy. She has taken Fultz to court under the Family Violence Protection Act in New Mexico.
However, Todd Holmes, an attorney for Fultz says he is just applying his First Amendment rights, which gives citizens the freedom of speech.
A petition was filed by Fultz's former girlfriend and said that Fultz had a history of harassment and stalking. She wrote on the petition that Fultz posted some of her intimate shots from one of their cyber dates. Also, the petition calls for the removal of the billboard and put online harassment to a stop.
Fultz had the billboard installed in the middle of May. A judge ordered, last week, that the billboard be removed in the middle of June. But, Fultz's attorney said he is planning to file a motion to put the highway billboard in place. He also said that his client is prepared to enter jail if necessary.
Holmes said Fultz suspected his girlfriend had an abortion. However, emails sent to the Right to Life Committee said Fultz's ex-girlfriend had a miscarriage and not an abortion.