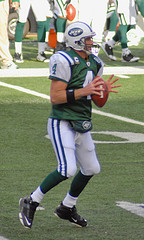 Jenn Sterger is expecting a huge audience this week on ABC's Good Morning America and Nightline. That could be a huge opportunity especially for someone who wants to push up her career in TV hosting and as an actress. However, Sterger is firm on saying that she just wants her life back and be given the opportunity to go back to work.
Sterger was recently connected to the alleged unacceptable behavior of Brett Favre, a former quarterback. In an interview with George Stephanopoulos she repeatedly said that she simply wants to go back to how things were. She wants to entertain people again. Sterger is, however, torn as the nature of her work allows her to say crazy things and she almost always get away with it.
There were rumors that went out a couple weeks ago that Sterger received a lot of offensive phone messages and photos from the former quarterback Favre. NFL investigators were not able to squeeze out details from Favre so they just asked them to pay a fine of $50,000 for not cooperating in the investigation.
Sterger said that she tried to go back to work and do her job but did not have a clue how to do the news when she is in it. She further said that she was embarrassed and even humiliated. She also denies the rumors saying that she is just a gold-digger who wants to make money off of the issue. She emphasized that she did not get a single centavo from Favre or from any of the photos.
The second part of Sterger's interview will air on Wednesday on Good Morning America.