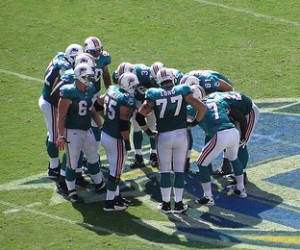 The Miami Dolphins head coach Tony Sparano's contract was extended for two years on Saturday. This means Sparano will still be together with the team until the finish of the 2013 season.
The Dolphins ended the 2009 season with three consecutive losses that gave them a 7-9 record and out for the playoffs for the second consecutive year under the head coach.
Intense speculations over Sparano's future were all over the media a week before Dolphin's owner Stephen Ross admitted that he had talked with head coach Jim Harbaugh.
But then, Ross denied the rumors that he had offered Harbaugh the Dolphins head coach job. Harbaugh was then, appointed the coach of San Francisco 49ers on Friday.
Ross told the reporters that his meeting with Harbaugh never got to that point of offering the job. He said that they realized they had the right man in Tony Sparano.
For the past week, Ross said that he may have been naive. He explained that he did not expect his meeting up with the hottest property in college football to make big rumors in the media. He did not think that it would be featured in national news.
Ross apologized, saying that it was a mistake on his part. He said that he should not have been speaking to coaches not unless he decided to make a change.
Sparano was clearly hurt upon hearing the breaking news. He admitted that it had been hard for him to keep his staff updated with the events while he had other responsibilities.
However, he received several text messages and support from the players, as well as the owner saying that he had kept his job. In an interview, the coach said that it was now time for them to put a stronger team.