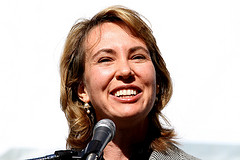 On Wednesday, Congresswoman Gabrielle Giffords of Arizona was scheduled to go under the knife for a cranioplasty procedure. This is an extremely crucial step in her treatment for the gunshot wound to her head.
Representatives from the congresswoman's office and officials from the Memorial Hermann Hospital where she is currently receiving treatment and therapy would neither deny nor confirm the report. Her medical team, however, predicted roughly 2 months ago that they are to perform the procedure in mid-May. The hospital spokesperson said they will schedule a press conference today, Thursday.
Cranioplasty is a surgical procedure that includes the replacement of a portion of the human skull with either a plastic implant or an original bone tissue. Gifford's doctors have already said that they will use a synthetic implant that will be secured by titanium screws because the fragment removed from her skull to relive the pressure due to brain swelling was contaminated. If all goes well, cranioplasty usually takes more or less two hours.
The congresswoman has been in intense therapy in one of the departments in the Memorial Hermann Hospital, the Institute for Rehabilitation and Research, since the January 8 shooting. Giffords was shot to the head in a public meeting among her constituents in Arizona. Lead suspect for the incident is the 22-year old Jared Loughner who allegedly fired from the crowd. The shooting wounded 13 people and killed six, including a child, a federal judge, and one of the congresswoman's aids.
Giffords' doctors see a huge amount of improvement on her condition. She was seen dining with her husband and friends a few weeks ago and was cleared to watch her husband, Capt. Mark Kelly, liftoff. Kelly is the crew leader of space shuttle Endeavour.