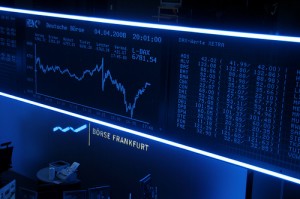 On Wednesday, world stocks slumped from this week's 29-month high after interest rates rose in China. This prompted investors to book profits while general optimism over worldwide growth sent 10-year U.S. bond yields to nine-month highs.
For the second time in over six weeks, China increased its interest rates on Tuesday raising the battle against inflation.
It is believed that aggressive monetary tightening in the second biggest economy in the world could possibly put a halt on global growth and mull over equities and commodities. However, investors remained convinced that the proactive yet gradual step of China will not disrupt the global recovery.
The rate increase gave investors an excuse to strengthen their positions after the benchmark world index improved nearly 4 percent since the beginning of the year.
Investors are also being vigilant before Ben Bernanket, the Federal Reserve chairman, testifies on the economy afterward. By that time, he might give signs on the future expectations for interest rates in United States.
According to Adam Myers, the senior currency strategist at Credit Agricole CIB, China is turning its focus towards inflation rather than growth. This means growth is still likely to continue.
THE MSCI world equity index decreased 0.3 percent, hitting its 29-month peak on Tuesday. The Thomson Reuters global stock index fell 0.2 percent while FTS Eurofirst 300 index was steady on that day. Emerging stocks dropped to almost one percent while Shanghai shares fell 0.9 percent.
U.S crude oil increased 0.7 percent to $87.56 per barrel while London crude prices soared above $100 because of tighter North Sea supplies.
The bund future dropped 24 ticks while yields on 10-year U.S treasuries rose as high as 3.77 percent. The figures were their highest since late April.
The dollar lowered against several major currencies while the euro increased 0.1 percent to $1.3645.
Bernanke said last week that the U.S. economy still needs assistance from the Fed, a stand many traders anticipate him to repeat when he talks on Wednesday.