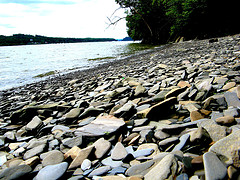 Three tiny white caskets were buried on Monday. The caskets carry the three children who drowned with their mother after she deliberately drove their minivan into the Hudson River. The children were buried miles away from where their mother's grave.
The funeral was intense and heated as members of the two sides of the family argued and shouted at each other. In the end, the hearse drove to Gethsemane Cemetery (6 miles away from where the children's mother, Lashondra Armstrong, was buried) following the father's orders.
Armstrong, 25, committed suicide by drowning herself along with her children Laianna, 11 months old, Lance, 2, and Landen, 5. Armstrong and the father of the kids, Jean Pierre, had an argument prior to the incident, said Newburgh police. La'Shaun, 10, Armstrong's eldest son from a different man was also inside the minivan when she drove it into the river but he managed to escape after climbing out of a window.
The family of Armstrong originally arranged for the mother and the children be interred together but Jean Pierre did not agree. His lawyers said that it seems inappropriate considering that it was their mother who killed the children.
Gwendolen Green, Armstrong's family member, said that they were hugely banned from attending the ceremonies. Guests can only go through if they are in the "list" Jean Pierre's side of the family arranged for the ceremonies. The situation was intense after family members filed outside the funeral home while police officers stood guard. Shouting from the outside was heard the entire time the ceremony was taking place.