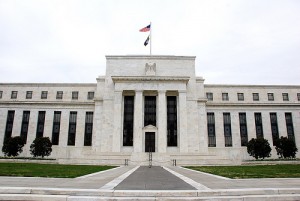 The stunted labor market in the United States may be heading up, according to a report coming from the Federal Reserve that found moderately better job conditions throughout the country.
The Fed's Beige Book was based on the anecdotal reports that the central bank has gathered from its business contacts in the regional branches and showed an increasingly bright, yet guarded picture.
The results matched with the recent increase in the U.S economic data that impelled some economists to raise their growth forecasts in the first half of this year.
The Fed said that all district reports indicated that employment levels are increasing in at least some areas, usually by moderate amounts. Manufacturing also emerged to be doing well. However, many businesses are still in a wary while U.S housing sector is still left in a rut.
Meanwhile, the latest data showed modestly better outlook on U.S home mortgages as lending rates were relieved from recent highs. The seasonally adjusted index of mortgage application activity rose 2.2 percent last week, according to the Mortgage Bankers Association. The figures went up its highest level in just one month.
The report by Fed also forecasted an increase in price pressures for businesses. However, there is little evidence that this will be passed on to consumers. The findings reflected the data on import prices that jumped 1.1 percent in December after a revised 1.5 percent increase in November.
According to the Labor Department, prices were up 4.8 percent last year. A low inflation environment in the country has permitted the Federal Reserve to maintain a very loose monetary policy. However, the recent increase in global energy and commodity prices has lifted some concern regarding cost pressures.