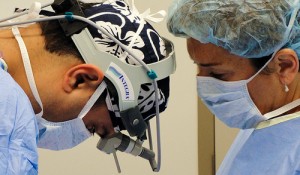 A woman who was brutally attacked by a chimpanzee back in 2009 has undergone a full face transplant in Boston, the hospital where the procedure was made announced on Friday.
Charla Nash's body was mutilated when a friend's pet chimpanzee went wild. The chimpanzee named Travis then weighed 200 pounds was afterwards killed by the police through several gun shots.
According to Brigham and Women's Hospital in Boston, Nash underwent a surgery last month to receive a face transplant. Nash's surgery was the third of its kind that was actually performed in the country.
The medical team that attended Nash's case was composed of more than 30 doctors, as well as residents, nurses, and anesthesiologists. The surgery, which lasted for almost 24-hours, replaced Nash's facial skin, lips, nose, nerves and muscles of facial animation.
Hands transplantations were attempted as well, the hospital said. However, the surgery was not a success and the hands were eventually removed.
Reports say Charla is doing well a month after the surgery. Charla's family has been talking with several news outlets nationwide. They say Charla will look very close to her old self once the recuperation period is over.
Brigham and Women's Hospital is a teaching affiliate of Harvard Medical School. It has already performed two successful full face transplants this year.
Dallas Wiens, 26-year-old, is United States' first recipient of full face transplant. He went home in Texas last month to be with his daughter and resume his normal life. He is continuing rehabilitation on facial muscle as well.