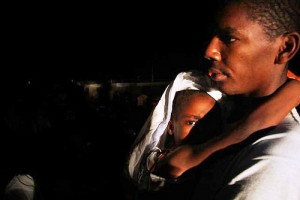 A dead man's body was uncovered last week in the rubble left of a Port-au-Prince restaurant one year after the destructive earthquake occurred.
Human bodies still being discovered in the ruins are a sign of how far Haiti must go through to recover from the catastrophe that left the capital city of Haiti in despair. More than 230,000 people were estimated to have been killed by the January 12 earthquake.
Days after the disaster, hundreds of volunteers and aid groups went to offer food, water and first aid treatment and had saved numerous lives. However, the effort to rebuild the nation has been stunted by the evident need and lack of leadership, both in the country and internationally.
Days after the quake, Haiti President Rene Preval did not speak publicly. Several observers criticized him for not making firm policy decisions and leading the clear efforts to reconstruct the country. Yet, advocacy groups blame the country's weakness on maintaining an international community that will keep their pledge of support.
Preval along with his wife and other officials laid flowers at the symbolic black crosses that marked a mass grave where hundreds of thousands of quake's victims were killed, outside the capital on Tuesday.
From the desolate side of the country, the destruction that the quake caused is still visible. Millions of people remain homeless and not more than 5 percent of the ruins have been cleared. A cholera epidemic also occurred that killed thousands of people after the Quake.
Overall, reconstruction efforts were held back by the failure to deliver the billions of dollars in promised aid.
Prime Minister Jean-Maz Bellerive, the U.N. special envoy for Haiti said that while everyone is talking about Haiti's resilience, the efforts to rebuild the future will depend on the basics, and that is what they should do right now.