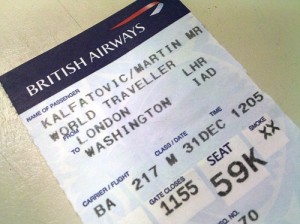 People looking for cheap airfares to travel this summer might need a bit of luck to find them. Currently, airlines are holding back their great deals and discounts durring most summer travel periods. However, they are already giving out astounding bargains for both international and domestic flights this spring.
Delta Air Lines offered the lowest cost for round trip tickets to some European cities last Tuesday. Taxes where even included in the $138 airfare. Within a few hours, the offer was gone. This led some experts to say it was an error in pricing.
Lufthansa also mistakenly priced its flights without fuel surcharges, according to George Hobica, the founder of airfarewatchdog.com, which is a travel advice website. Again, the low-priced fares did not last long.
Although some seat sales for spring flights are unexpected and difficult to find, most of them are rather easy to spot. Discounts for flight fares often occur from Tuesday until Thursday. In fact, Southwest Airlines and other airlines offered a $138 round trip flight to many U.S. destinations.
According to Tom Parsons from the travel website, BestFares.com, airlines usually promote a lot of sales. However, the discounts right now are limited to travel flights before the month of May. He said travelers should find an airline that will extend a sale into summer, and when they do, their credit cards should be ready.
The CEO of FareCompare.com, Rick Seaney said round trip fares are expected to increase to $250 since airlines are not yet giving discounts for summer trips. He said airlines usually give bargains three months before the start of summer vacation to measure the demand on travel.
Last summer, air fares rose as travel demand increased. Airlines strictly controlled the number of seats and flights. The Federal Aviation Administration predicts that more people will be travelling this year than last year.