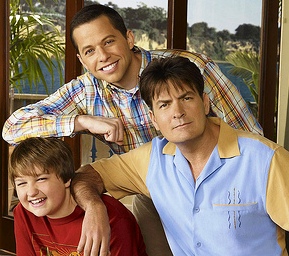 CBS and Warner Bros. decided to end the production of Charlie Sheen's high-rated TV sitcom "Two and a Half Men" this season. The decision was reached in the stir of a provocative radio interview with the male actor.
The companies gave a joint statement on Thursday saying they concluded based on Charlie Sheen's conduct, statements and condition as a whole. But, it did not mention any future plans concerning the show.
The production of the TV Show was previously suspended in January to give time for Sheen's rehabilitation. Earlier Thursday, Sheen and Warner's publicist Stan Rosenfield said the sitcom will continue taping with the actor next week.
However, that was before Charlie Sheen spoke, often, with hurtful words during his interview with radio host Alex Jones. In the interview, the 45-year-old actor ridiculed Chuck Lorre, the producer of "Two and a Half Men." He also targeted other people, including the help-group Alcoholics Anonymous.
The sudden decision to stop making additional episodes on the profitable TV series came after the lead actor's increasingly erratic behavior. This included the earlier interview where he claimed he had asked to go back to work but was prohibited by producers.
He frequently brought up violent ideas and images in his radio interview with Alex Jones. Also, he mocked Lorre in an attack that suggests anti-Semitism. Lorre is a veteran producer. His hits include "Cybill," "Dharma & Greg," as well as "The Big Bang Theory."
Sheen's divorce petition against ex-wife Brooke Mueller was recently approved by a Los Angeles judge. However, they are not officially separated until May 2.