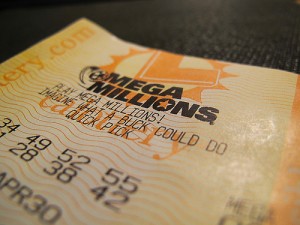 After the Tuesday night's drawing, the Mega Millions jackpot soared to $304 million with a cash prize of $193.6 million and a 4.04 percent yield.
The winning numbers for the Mega Millions draw on Tuesday, March 22, 2011 were 1, 14, 35, 50 and 53. The Mega Ball number was 43 and the Megaplier number was 4. However, no players any where the country matched all six numbers to win the March 22 jackpot.
Last Friday, the Mega Millions jackpot was up to $244 million after 13 successive drawings without a winner.
The jackpot has been escalating since February 4 when the $12 million jackpot went unclaimed. On February 1, a group of Michigan workers and a Northwestern Indiana family divided the $93 million jackpot.
Previously, newyerseynewsroom.com said each lottery ticket has a 1 in 172 million chance to win the jackpot.
Although there was no lucky winner for the Tuesday jackpot, 26 players were able to match the first five numbers equivalent to a $250,000 prize. There were 9 winners from New York, 5 winners from California, and 2 winners from Georgia, Michigan and Texas. Also, there was 1 winner each from Arizona, Maryland, Massachusetts, Minnesota, Nebraska and Pennsylvania.
The five winners from California will get $297,525 because awards in the state are given in a pari-mutuel formula. It calculates the prize based on the number of lottery tickets sold, as well as the number of winners in each category.
Even though the jackpot prize is not the largest in the history of Mega Millions, it will surely drive people to try their luck. The jackpot is one of the largest lottery prizes recently.