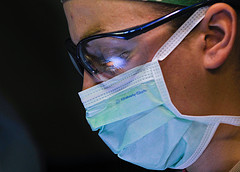 The country's first full face transplant patient made an appearance on Monday and said that the very first thing his daughter told him right after the operation was that he looked extremely handsome.
25-year-old Dallas Wiens joined his surgeons on Monday at the Bringham and Women's Hospital for his first public appearance since his full face transplant in March. Wiens had a goatee and wore dark sunglasses during the interview. The young man had just survived a 15-hour procedure and is the first recipient of the full face transplant in the United States.
Wiens received new lips, nose, facial muscles, nerves, and skin from an undisclosed donor and yet, he said it feels natural. The entire costs for the operation were paid for by the U.S military with the hopes that the success of the operation will help the organization treat their soldiers with severe facial damage.
Wiens is not a soldier but his face was burned after he hit a power line in a church he was painting in November of 2008. He was also left blind after the accident.
Wiens' face is still a little swollen when he faced a room-full of reporters and photographers but he said that his new face is amazing. He added that he easily adapted after the operation and he can now smell and breathe through his new nose again.
Bohdan Pomahac, the surgeon who operated Wiens, said that the operation went smoothly and the results came out better than what he had hoped for. Unfortunately, the damages on his face were so severe that the team of surgeons were not able to restore his sight and some of the sensation on his left cheek and forehead.
The hospital was given a $3.4 million research grant by the Department of Defense; enough to conduct full face transplants to four more patients.