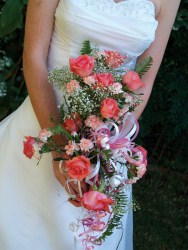 Now that the royal wedding is up, who is designing the dress that will transport Kate Middleton from an ordinary girl to royalty? — This question has been buzzing around the London Fashion week during the entire event. As of now Kate Middleton hasn't announced who will be the fortunate designer to create her dress.
It was rumored months ago that Kate Middleton had picked designer to the stars Phillipa Lepley, who would likely create romantic dresses with flowers and vintage laces as her 2011 bridal collection suggests. However, according to Hilary Alexander, The Telegraph newspaper fashion editor, Middleton's dress remains unknown and will continue to be unknown. This is not unlike what Lady Dianna did when she married Prince Charles.
Alexander said Middleton might have found someone to design her wedding dress but the secrecy will remain until the wedding day. Nonetheless, it is sure to be absolutely beautiful.
Most fashion experts have agreed that Kate Middleton will very likely choose a British designer. There are many top designers who were mentioned to design Kate's dress aside from Leypley including Victoria Beckham, the former Spice girl turned fashion designer. The speculations began when she and her husband where invited to the wedding.
The paparazzi have also crowded the doorstep of Oldfield's shop. It was there that Kate's mother and sister were seen leaving the showroom.
According to Daniella Issa Helayel, who designed the dress Kate wore on her engagement day, royalty really has a way with fashion. After Middleton wore the blue Issa crossover, knee-length dress when she and William announced their engagement, the dress was sold out within 24 hours.
Another possibility is Elizabeth Emanuel, the designer of Princess Diana's wedding gown back when she walked the aisle of St. Paul's cathedral almost three decades ago.